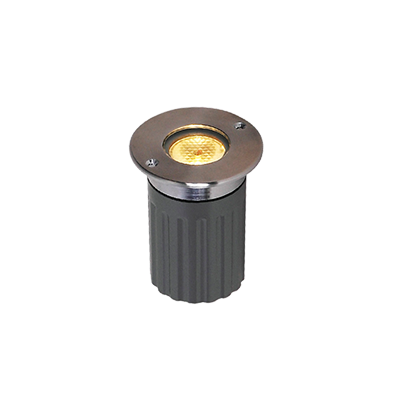 IG-101 |

Recessed LED Luminaire
The IG-100 is a 2W in-ground dimmable LED fixture which can be used in most indoor or outdoor applications. Capable of 180 Lumens of light output, this easy to install fixture comes with a concrete pour housing and features heavy duty stainless steel finish able to withstand a maximum load of 2,000 lbs. Available in round or square face plate options.
FEATURES
■ Suitable for interioror exterior applications.
■ Designed for in-grade applications.
■ Heavy duty stainless steel finish.
■ 3000K, 4000K and Blue color temp options.
■ Suitable for wet locations.
■ Dimmable
■ Rated to last 50,000 hrs.
■ 24V DC power supply required.
QUICK SPECIFICATIONS
■ Light Source: 2W LED
■ Lumens: 160 Lumens
■ CRI: 85+ CRI
■ Color Temp: 3000K or 4000K
■ Voltage: 24 Volts DC
■ Rating: Wet Location IP65
■ Dimming: Dimmable
■ Lead Wires: 20" 18AWG lead wires
DIMENSIONS
VIEW DIMENSIONS
DOWNLOADS
SPECIFICATION SHEET